CMP Slurry for Planarization
Manufactured in Hillsboro Oregon USA, AGC CMP Slurry polishing technologies for planarized multi-layer structures are the latest in state-of-the-art CMP Slurry technology. AGC works closely with leading fabs to optimize slurry properties for custom processes.
CMP processing using AGC's polishing slurries results in excellent surface planarity, uniformity and low defectivity on customer wafers.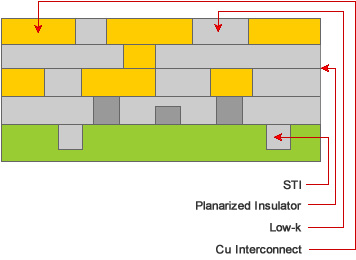 CMP Process:
Chemical Mechanical Polishing, or CMP, has become an indispensable technique for fabricating integrated circuits. During the CMP process, a wafer surface is polished for planarization using a slurry and a polishing pad. The abrasive particles in the slurry grind against the sample surface, loosening material. The chemicals in the slurry then etch and dissolve the material.
This process is designed to remove areas of elevated topography more quickly than the lower areas. Although mechanical grinding alone can achieve a reasonable degree of planarization, chemical etching is necessary to remove the extensive damage from mechanical grinding. Although chemical etching results in a damage-free sample, the process is typically isotropic and does not remove topographical features.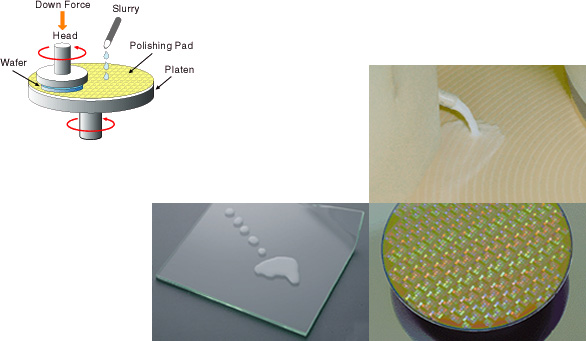 AGC's Ceria-based slurry was developed for oxide layer polishing for STI and ILD applications. Key benefits with CES-350 Series slurries include narrow particle size distribution and superior dispersion technologies for less than 45nm node.
These properties enable good slurry stability and superb process control. CES-350 series ceria slurry provides excellent planarization and very low defectivity on customer wafers. All CMP slurry products at AGC are alpha-tested at Asahi's world-class research center using the latest in CMP process equipment.
Single component, two components
Excellent global planarization:

Low SiN loss / Low dishing / Good uniformity

Low defectivity
Excellent stability and long shelf life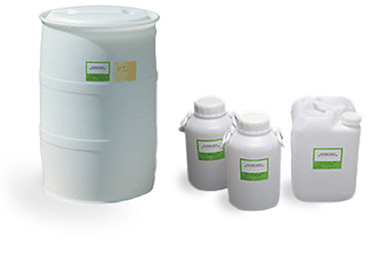 AGC Ceria Slurry Types for STI Applications
SiO2/SiN
Auto Stop

High Selectivity (SiO2/SiN) type
One step polishing
High throughput

Auto Stop type
Two-step polishing
Good planarization

Substrate Polish Slurries
AGC's Sapphire and SiC substrate polishing slurries are designed to achieve excellent surface quality required for them to be used in manufacturing of high performance LEDs.
AGC's substrate slurries offer low cost and high throughput substrate polishing solutions compared to conventional products available in the market.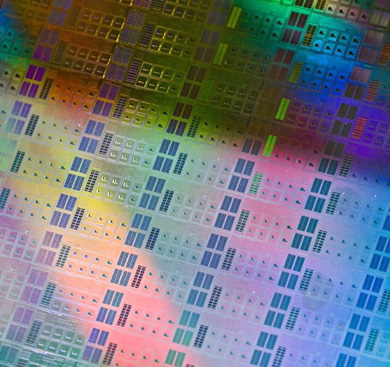 UD 1900B Sapphire Slurry:
UD 1900B on suede pad maintains a high removal rate with wide dilution range.
This results in cost reductions and a minimal removal rate change due to slurry dilution shift.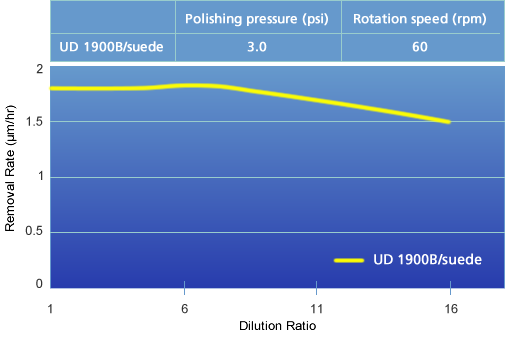 Contact us to Request Product Literature and More Information