CYTOP Fluorinated Coatings
AGC's proprietary spin coatable polymers impart a hydrophobic surface for applications requiring high contact angles (low surface energy) on glass or plastic substrates. Because the fluorinated chemical backbone is partially cyclic, high electrical and chemically resistant films are possible. In addition, coatings as thin as one micron are achievable.
CYTOP with high voltage breakdown allows the user to apply ultra-thin coatings and still maintain a high electrically-insulative barrier over electrodes. Because CYTOP is a highly engineered fluorinated cyclic hydrocarbon, micro patterned features can be fabricated by reactive ion etching to produce micro arrays.
The three types of CYTOP manufactured by AGC are formulated with functionalized terminated chemistry to enable further reactions which provide high adhesion to the surface of the substrate. CYTOP has a low auto-fluorescence which results in a low signal-to-noise ratio when undergoing photonic diagnostics in the region of 300-800 nm.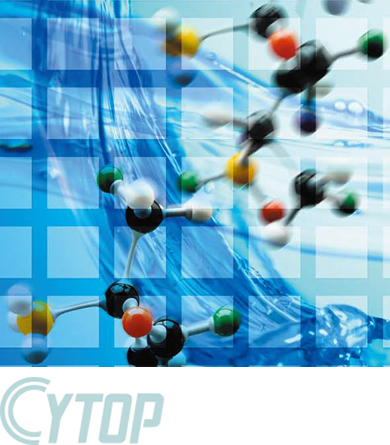 Contact us to Request Product Literature and More Information