Synthetic Quartz for ARF & LCD Steppers
AGC's optical components provide high transmission, laser durability, good homogeneity, and low compression at UV to VUV wavelengths. Strict process control standards and proprietary technologies ensure the highest quality material standards required by large-size optical systems.
The synthetic quartz in AGC's AQ series is ideal for optical lens materials for all wavelengths from i-line to F2 lasers.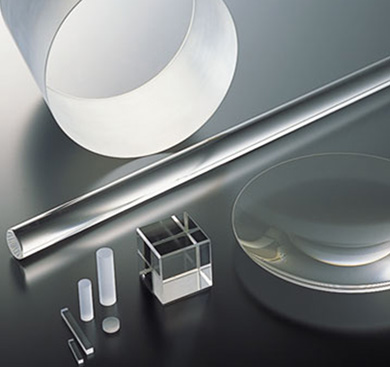 High transmittance for deep ultraviolet rays with frequencies < 200 nm ranging from the i-ray to KrF, ArF, or Xe excimer lamps, and even for near infrared rays*1
Excellent Compaction/Rarefaction and Polarization Induced Birefringence (PIB) characteristics*2
Resistant to heat processing around 1,000°C*3
Excellent durability against high-energy laser beams
Thermal expansion as low as 1/10 times that of conventional glasses
High uniformity
Very high purity, very low metal impurity content
Low OH group content
Outstanding chemical resistance
Low Dielectric Loss
AQ
Chemical Constitution
SiO2
wt (%)
100
Thermal Properties
CTE
Softening Point
Annealing Point
Strain Point
ppm/K (50-200°C)
°C
°C
°C
0.6
1,600
1,120
1,060
Optical Properties
Refracive Index
nD
1.46
Chemical Properties
Acid Resistance
Alkali Resistance
mg/cm2
mg/cm2
0.000
0.032
Mechanical Properties
Density
Young's Modulus
Knoop Micro Hardness
g/cm3
GPa
kg/mm2
2.20
74
540
Electrical Properties
Bulk Resistive
Dielectric Constant
log (Ω•cm) at 200°C
at 1MH,R.T.
12.5
4.0
Typical data, not guaranteed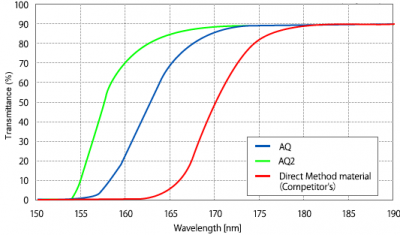 | | | |
| --- | --- | --- |
| Grade | Features | Primary Applications |
| AQ | Standard grade | Photomask substrates, Glass wafers, Illumination optics |
| AQ3 | High transmittance in wide wavelengths | Xe excimer lamp (172nm) |
| QJ | AQ enhanced uniformity of refractive index | Projection options for i-line (365nm) |
| AQ2 | High resistance against deep UV excimer laser, high uniform reactive index | Projection optics for ArF excimer laser (193mm) |
| AQT | Very high resistance against deep UV excimer laser beam | Illumination optics for ArF excimer laser (193nm) |
| AQR | AQ enhanced in purity, with metallic impurity content assured | Glass wafer for High temperature & High purity processes |
| QC-i | High transmittance for deep UV excimer laser & low biofringence | Photomask substrate for ArF immersion system |
Contact us to Request Product Literature and More Information